Tower 61 will guide you through the complex landscape of online advertising. We know what works and will apply our knowledge to your business needs to ensure you get the highest return from your advertising dollars.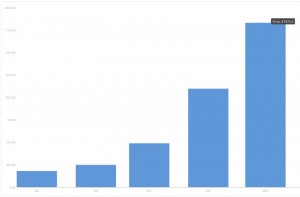 Google AdWords
Google AdWords is one of the most popular online pay-per-click advertising platforms that offers the following advertising opportunities.
Search Advertising – text based ads that appear based on what the user searches for on Google.
Display Network Advertising – text and image ads that can appear on any website. Ads can be targeted to specific websites, or websites that serve a particular interest group
YouTube – the ability to use a video to promote your products or services
We are Google Ad Words Certified which means Google has recognized us as an AdWords certified professional, meaning that we've passed multiple exams that assess our product expertise. We're qualified to help you grow your business on the web using Google AdWords.
To get the most form your Google AdWords your campaign needs to be monitored and improved so that it can reach it's full potential. Our services include
Creating an AdWords account. Besides an Adwords account we recommend you also have Google Analytics setup on your website. For simple websites this is a trivial exercise but to make the most of Remarketing campaigns, capture Ecommerce data, setup conversion goals, and other advanced features there is some expertise involved as well as familiarity with the back end of your website and javascript.
Creating AdWords campaigns. We can recommend the best way to structure your campaigns and allocate your advertising budget based on what your goals are.
Keyword Management. Search based advertising is based on keywords. We will define a list of keywords and phrases based on your website content. The performance of these keywords will be monitored over time. It is typically necessary to add/remove keywords and manage a negative keyword list in order to drive the right kind of traffic to your website.
Creating Ads. We will help you to create the most compelling copy for your text ads. We can also create image ads that tie into your brand.
E-mail Marketing
If you already have a mailing list of customers we can make sure they haven't forgotten about you with an effective e-mail marketing campaign.
Find out what we can do for you and your business
Contact Us Today!